Transparency International defines corruption as the "abuse of entrusted power for private gain". Corruption can be classified as grand, petty and political, depending on the amount of money lost and the sector where it occurs.
Grand corruption consists of acts committed at a high level of government that distort policies or the central functioning of the state, enabling leaders to benefit at the expense of the public good,
Petty corruption refers to everyday abuse of entrusted power by low and mid-level public officials in their interactions with ordinary citizens, who often are trying to access basic goods or services in places like hospitals, schools, police departments, and other agencies, and,
Political corruption is a manipulation of policies, institutions and rules of procedure in the allocation of resources and financing by political decision makers, who abuse their position to sustain their power, status and wealth.
All the above types of corruption exist in Kenya, and have been rampant for over 4-decades, and have been a large inhibitant to Kenya's development. According to the Ethics and Anti-Corruption Commission, Kenya is losing an estimated Kshs 608.0 bn to corruption yearly, which is 7.8% of Kenya's GDP.
The Kenyan President, Uhuru Kenyatta, has been vocal in his appeal to Kenyans to join efforts in the fight against corruption and has also recently taken decisive steps to combat corruption. He has essentially changed leadership at all the key law enforcement agencies that are responsible for fighting corruption. This year he called for a lifestyle audit of all public servants including himself and the Deputy President, William Ruto. He also directed all procurement officers in public entities to step aside and undergo fresh vetting. The Kenyan President also directed the relevant institutions mandated with investigating and prosecuting economic crimes to do a thorough job and ensure those found culpable are held accountable. This shows that the President is focused on the fight against corruption. The political will to fight corruption seems stronger than at any other time in our history, hence the reason to revisit the topic. In November 2015, we wrote a focus on corruption where we looked at what Kenya could learn from Singapore on corruption; we highlighted political will to fight corruption as the most important factor in the fight against corruption. For more information, see Cytonn Weekly 47/2015
This week we start by explaining why corruption is an important topic for Cytonn to discuss. We then focus on; (i) Kenya's history with corruption, (ii) the corruption scene in Kenya today, (iii) strides made in the fight against corruption, (iv) challenges in the fight against corruption in Kenya, (v) we look at Rwanda and Botswana, Sub-Saharan Africa countries, that are winning in the fight against corruption and look at what Kenya can learn from them, and (vi) opportunities for improvement.
Corruption is an important topic for Cytonn because like anything else, it affects the external environment in which we operate in. Corruption affects the external environment in the following ways;
On the political front, corruption is a major obstacle to democracy and the rule of law. In a democratic system, offices and institutions lose their legitimacy when they're misused for private advantage. This is harmful in established democracies, but even more so in newly emerging ones. It is extremely challenging to develop accountable political leadership in a corrupt climate,
Economically, corruption depletes national wealth. Corrupt politicians invest scarce public resources in projects that will line their pockets rather than benefit communities, and prioritize high-profile projects such as dams, power plants, pipelines and refineries over less spectacular but more urgent infrastructure projects such as schools, hospitals and roads. Corruption also hinders the development of fair market structures and distorts competition, which in turn deters investment,
Corruption corrodes the social fabric of society. It undermines people's trust in the political system, in its institutions and its leadership. A distrustful or apathetic public can then become yet another hurdle to challenging corruption,
Human capital channeled towards entrepreneurship and innovation is at the core of economic progress of any society. Corruption can demoralize creativity and innovation when it seems like society rewards the corrupt rather than those who toil to create ideas and new products and services,
The Organization for Economic Co-operation and Development (OECD) studies have confirmed a strong negative correlation between perceived corruption and levels of output. To achieve higher standards of living, we need long periods of economic growth, which cannot happen without high levels of output, and,
Environmental degradation is another consequence of corrupt systems. The lack of, or non-enforcement of, environmental regulations and legislation means that precious natural resources are carelessly exploited, and entire ecological systems are ravaged. From mining, to logging, to carbon offsets, companies continue to pay bribes in return for unrestricted destruction.
Section 1: Kenya's History with Corruption:
According to a report published by openAfrica, Kenya has had a long history with corruption that spans over 4-decades. Corruption has been present in all government regimes since independence. The table below highlights some of the corruption allegations and cases since 1965:
Source: Odipo Dev Research as published by openAfrica
| | | |
| --- | --- | --- |
| Year | Corruption Allegations / Cases | Estimated Cost |
| 1965 | Ngei Maize Scandal | N/A |
| 1986 | Turkwell Hydroelectric Power Station | Kshs 6.0 bn |
| 1991 | Golden Berg Scandal | Kshs 158.3 bn |
| 1999 | Kenya Air Force Helicopter servicing contract | Kshs 360.0 mn |
| 2005 | Anglo-Leasing | Kshs 3.5 bn (Eur 30.0 mn) |
| 2007 | Egerton University | Kshs 500.0 mn |
| 2007 | Charterhouse Bank Ltd | Kshs 150.5 bn (USD 1.5 bn) |
| 2008 | Grand Regency | Kshs 4.0 bn |
| 2009 | Sale of Imported Maize | Kshs 150.0 mn |
| 2009 | Triton Oil Scandal | Kshs 7.6 bn |
| 2009 | Nairobi Cemetery Land Scandal | Kshs 160.0 mn |
| 2010 | Chicken Gate Scandal | Kshs 50.0 mn |
| 2010 | Armored personnel carriers from OTT Technologies | Kshs 1.6 bn |
| 2012 | Japan Embassy Land | Kshs 1.4 bn |
| 2013 | KAA Shops Saga | Kshs 11.0 bn |
| 2014 | Eurobond Cash Unaccounted For | Kshs 215.0 bn |
| 2015 | NYS Kshs 791 mn scandal (NYS First Scandal) | Kshs 791.0 mn |
| 2015 | Imperial Bank Collapse | Kshs 34.0 bn |
| 2015 | Ministries Fail to Account for Kshs 40 bn | Kshs 40.0 bn |
| 2015 | Geothermal Development Company (GDC) Procurement Scandal | Kshs 1.7 bn |
| 2015 | Karen Land Saga | Kshs 8.0 bn |
| 2015 | Bungoma Wheelbarrow Procurement Scandal | Kshs 1.0 mn |
| 2016 | Health Ministry Kshs 5.0 bn Scandal | Kshs 5.0 bn |
| 2016 | Nairobi Unable to Account For More Than Kshs 20.0 Bn | Kshs 20.0 bn |
| 2016 | Kilifi County Graft Scandal | Kshs 2.0 bn |
| 2016 | Audit: Nairobi Fails to Account for Kshs 238.0 mn Parking Fees | Kshs 238.0 mn |
| 2016 | Audit Raises Red Flag on Defective Military Aircraft | Kshs 1.5 bn |
| 2016 | NSSF Shares Scandal | Kshs 1.6 bn |
| 2016 | Youth Fund Scandal | Kshs 180.0 mn |
| 2018 | Audit Uncovers Kshs 11.0 bn hole at Health Ministry | Kshs 11.0 bn |
| 2018 | NYS Kshs 9.0 bn scandal (NYS Second Scandal) | Kshs 9.0 bn |
| 2018 | NCPB Maize Scandal | Kshs 1.9 bn |
| 2018 | Kenya Power Corruption Scandal | Kshs 470.0 mn |
| 2018 | Kenya Pipeline Corruption Scandal | Kshs 647.0 mn |
| | Total | Kshs 698.1 bn |
Section 2: The Corruption Scene in Kenya Today
Corruption in Kenya only seems to be getting worse with more and more corruption scandals coming to light every day, such as the recent NYS, KPLC, and KPC corruption cases. However, data from Transparency International's Corruption Perception Index shows that the situation is getting better. In its 2017 ranking, Kenya ranked 143 out of 180 countries surveyed. This was an improvement from the 2016 ranking of 145. Kenya's CPI score also improved in 2017 to a score of 28 from the previous 26. In Sub-Saharan Africa (SSA) Kenya ranked 28 out of the 49 countries that were surveyed. Kenya was also below the SSA regional average of 32. A higher score in the index reflects less corruption and better measures to prevent corruption.
The Transparency International Corruption Perception Index scores countries on how corrupt their public sectors are seen to be. The index, which ranks 180 countries by their perceived levels of public sector corruption according to experts and businesspeople, uses a scale of 0 to 100, where 0 is highly corrupt and 100 is very clean. The index draws upon 13 data sources which capture the assessment of experts and business executives on a number of corruption behaviours in the public sector which include; bribery, diversion of public funds, use of public office for private gain, nepotism in civil service, and state capture. The data sources also look at the mechanisms available to prevent corruption in a country, such as; (i) the government's ability to enforce integrity mechanisms, (ii) the effective prosecution of corrupt officials, (iii) red tape and excessive bureaucratic burden, (iv) the existence of adequate laws on financial disclosure, (v) conflict of interest prevention and access to information and, (vi) legal protection for whistle-blowers, journalists and investigators.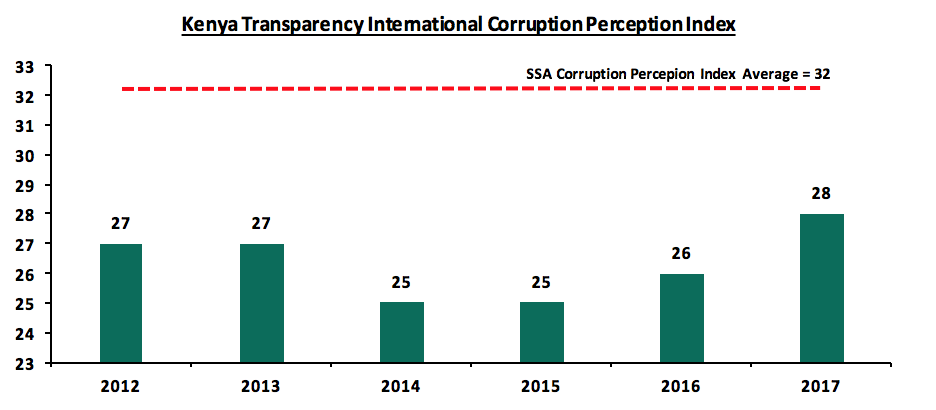 The major areas of concern with regard to corruption in Kenya today are;
Fund Misappropriation - Where funds that are budgeted for particular initiatives and programs are embezzled. This has had the effect of causing delays in projects and programs. The embezzlement of funds has also caused foreign donors to suspend aid and discourages them from funding projects and programs in the country,
Kenyan Public Procurement - Subject to rampant corruption and bribery, most of the corruption scandals in Kenya today are associated to procurement. According to the Global Competitiveness Report 2017-2018, companies report that bribes and irregular payments are highly common in the process of awarding public contracts,
Public Service - The competitiveness of Kenya's business environment is impeded by rampant public service corruption. Complying with administrative requirements takes a lot of time and is plagued by red tape where bribes have to be given to get licenses,
Land Administration - There is a very high risk of corruption in Kenya's land administration. According to Transparency International Kenya Annual Report 2014, Kenyans report a high likelihood of bribery demands in meetings with land service officials, and corrupt practices reportedly occur in almost 20% of all interactions. Possession of a land title does not guarantee property ownership, making land-grabbing and seizures by powerful elite common as a result of pervasive corruption and impunity. Fake land title deeds are frequently used and disappearances of title deeds from the Registrar's office are common; houses built on illegally acquired property are often demolished without prior notice, and,
Customs Administration - Companies face a high risk of corruption in Kenya's customs administration. According to the Global Enabling Trade Report 2016, rampant corruption at Kenya's ports and border points is the most problematic factor for international trade, followed by tariffs, burdensome import procedures and crime. Corruption at the points of entry have serious consequences as a result many counterfeit goods enter the market affecting trade. More recently goods that are not fit for human consumption are also finding their way through our borders as a result of corruption which is hazardous to the Kenyan population.
Section 3: Strides Made in the Fight Against Corruption:
Kenya has made significant strides by instituting legislation criminalizing corruption;
Anti-Corruption and Economic Crimes Act 2003 and Penal Code criminalize corruption, active and passive bribery, bribing of foreign officials, money laundering, abuse of office, extortion, conflict of interest, bid rigging and bribery involving agents.
Bribery Act of 2016 criminalizes primarily private sector bribery, broadly defined as "offering, promising, or giving a financial or other advantages to another person", which may include facilitation payments. The Act imposes a duty on public and private entities to have appropriate anti-bribery procedures in place.
Public Officers Ethics Act 2003 sets rules for transparency and accountability, as well as gifts and hospitality. Every public officer is required to declare their income, assets and liabilities every two-years.
Public Procurement and Disposal Act prohibits corruption in public procurement.
Finance Act 2006 provides for measures against tax fraud and guidelines on tax administration; it also provides sanctions on corrupt practices.
Service Commissions Act has a Code of Regulations for civil servants that requires meritocratic recruitment and promotion of public officials.
Access to Information Act 2016 provides a framework to facilitate access to information held by private bodies and promote routine and systematic information disclosure by both public service and private service.
The Kenyan Government, while strengthening its mechanisms for crime detection and prosecution, has also empowered its citizens in addressing and reporting corruption issues. The Anti-Corruption and Economic Crimes Act and the Witness Protection Act provides for protection of whistle-blowers and forbids any disciplinary action to be taken against any private or public employee who assists an investigation or discloses information for such an investigation.
Kenya has also ratified;
African Union Convention on Preventing and Combating Corruption, which addresses corruption in the public and private sectors. It represents a consensus on what African countries should do in the areas of prevention, criminalization, international cooperation and asset recovery, and,
United Nations Convention Against Corruption (UNCAC), which introduces a comprehensive set of standards, measures and rules that all countries can apply in order to strengthen their legal and regulatory regimes to fight corruption.
Kenya had shown great commitment by strengthening its institutions to fight corruption. The country has already established a multi-agency framework that brings together relevant law enforcement agencies in its fight against corruption. The multi-agency framework on corruption in Kenya includes;
Asset Recovery Agency,
Directorate of Criminal Investigations,
Ethics and Anti-Corruption Commission,
Central Bank of Kenya,
Financial Reporting Center,
Kenya Revenue Authority,
Directorate of Public Prosecution, and,
Office of Attorney General.
The government through the multi-agency and multidisciplinary approach also seeks to introduce into the education curricula of the country studies on leadership, ethics and integrity for all its citizens. Accordingly, all new civil servants will receive education on corruption and economic crimes while being inducted into service. The government is also working on the ratification of UNCAC through the International Anti-Corruption Academy (IACA) to pave way for advanced training of anti-corruption officers, judicial officials as well as prosecutors to effectively deal with the vice of corruption.
As can be seen above, Kenya has a myriad of laws, regulation, frameworks and agencies required to combat corruption
Section 4: Challenges in the Fight Against Corruption in Kenya
According to the Ethics and Anti-Corruption Commission 2016-2017 annual report, the challenges faced in the fight against corruption include;
Inadequate financial capacity and budget constraints. Since the EACC relies on funding from the government, the money allocated to the commission to carry out its activities is not enough to meet the demand for the commissions' services country wide,
Inadequate capacity in terms of human resources as there is need to further devolve the commissions services to respond to an increasing number of corruption reports. The shortage of staff was also aggravated by a high staff turnover attributed to the remuneration package not been enhanced over the last 13-years,
A slow judicial process and adverse court decisions. The judicial process and the adjudication of cases is still slow, with some corruption cases stretching back more than 10 years. EACC was affected by adverse judicial decisions that stopped investigations or prosecutions. This results in the cases investigated by the commission taking too long to be heard in court or having investigations or prosecutions terminated by the courts,
Weak legal framework, such as the Ethics and Anti-Corruption Commission Act, 2011, and the Leadership and Integrity Act, 2012, that have been watered down by legislators. There is also no political goodwill to fight corruption and unethical conduct in Kenya,
The lack of the National Policy on Anti-corruption as it has not been finalized, which has made the efforts of the commission and other organization uncoordinated and varied. Areas that would have benefited from an integrated approach such as investigations and asset recovery are affected,
The Commission does not have powers to enforce implementation of its corruption prevention recommendations. Additionally, the inability to enforce codes of conduct in the public service has made it difficult to curb corruption in the public sector,
There has been politicization of the leadership and integrity mandate of the commission,
County Governments have been reluctant to mainstream the integrity and anti-corruption agenda,
There is an entrenched corruption and unethical culture in the public service, and,
There is also a lack of proper wealth declaration management and administrative procedures and the society appears to tolerate corruption and unethical conduct.
Section 5: Case study of Rwanda and Botswana
Botswana and Rwanda are two countries in Sub-Saharan Africa that have made major strides in the fight against corruption. Botswana ranked the best country in Sub-Saharan Africa according to the Transparency International Corruption Perception Index with a score of 61, with Rwanda coming in third with a score of 55. These countries ranked better than Italy, Greece and Hungary with Botswana outperforming Spain in the index. We seek to see what has made them successful in the fight against corruption and see what Kenya can learn from them. Factors attributed to the success of fighting corruption in Botswana and Rwanda include;
Political Will to Fight Corruption - This is one factor that both Rwanda and Botswana has with their current and former presidents, who have strong political will. Political will is critical because combating corruption effectively requires the government to provide the anti-corruption agencies with the necessary powers, budget, personnel and independence to enforce the anti-corruption laws impartially. In Botswana, Sir Seretse Khama, Botswana's first president did not tolerate corruption and corruption was discouraged by a rigorous system of accounting controls and strict enforcement of civil service codes requiring honesty and reinforcing that the state was not a source of personal income even leading by example by living a modest life. In his Government, they prosecuted prominent cabinet ministers and officials, two of them being his relatives. Khama's policy of zero tolerance for corruption was continued by his successors and contributed to Botswana's success in fighting corruption. In Rwanda, Paul Kagame decided to transform Rwanda by urging the population to reject corrupt practices and report corrupt people. Kagame also enforced the anti-corruption laws by dismissing those found guilty of corruption offences and introduced a strict code of conduct for officials that require them to disclose their assets yearly. The degree of political will in Botswana and Rwanda is manifested in the provision of legal powers, financial and human resources and operational independence of their anti-corruption agencies,
Anti - Corruption Agencies – Rwanda and Botswana abolished the ineffective colonial government's method of using the police to curb corruption and adopted the use of a single Anti-corruption agency to fight corruption. It is important to note that having a single anti-corruption agency does not guarantee success in combating corruption unless it has the powers, budget, personnel and independence to perform its functions impartially as a watchdog. Botswana has a type A anti-corruption agency which is dedicated solely to performing anti-corruption functions. Rwanda on the other hand has a type B anti-corruption agency which has to perform both corruption and non-corruption related functions. In both countries, the anti-corruption agencies are given the necessary support by the government to enforce their mandate,
Establishment of a Public Service Commission – Botswana and Rwanda both have Public Service Commissions to cater for the needs of the civil servants that ensure that all civil servants are hired based on merit and they abide by the laws and civil servants code of conduct. Professional, merit-based civil service that is paid and trained well and rewarded for competence is the bedrock on which any anti-corruption reforms must be built on.
Section 6: Opportunities for Improvement:
Political Will: It appears that political will is the single most important ingredient to fight corruption. It has worked in Botswana and Rwanda, and in other countries like Singapore. Luckily, for Kenya the Kenyan President has recently demonstrated a political will to fight the vice, but the sustainability for the long haul remains to be seen. It is also important that this political will is shared by all coalitions of the government and the opposition for it to cascade nationally,
We need to develop and publicize a system where the public can anonymously report corrupt activities,
Inculcate a sense of anticorruption spirit in the public, especially given that we tend to look at corruption from a tribal prism, where we look aside when our own is corrupt. In Singapore, the rallying cry against corruption was that if you want to fight corruption, you have to be prepared to send your friends and relatives to jail; in Kenya we have to be prepared to send our own tribe to jail, and
We need to see real and high-level convictions to restore public confidence in the system and also to make the price high for high level participants.
Conclusion
Kenya has the legal frameworks necessary to fight corruption, and luckily, we now have a president that is demonstrating the political will to fight corruption, and quite frankly has the space to do so given that he is not running for office again. What we need is to sustain that will until the people believe it is not a passing phase or cloud, demonstrate convictions in the cases being prosecuted to make the price too costly and painful, and inculcate of a sense of anti-corruption in our society.
Disclaimer: The views expressed in this publication are those of the writers where particulars are not warranted. This publication, which is in compliance with Section 2 of the Capital Markets Authority Act Cap 485A, is meant for general information only and is not a warranty, representation, advice or solicitation of any nature. Readers are advised in all circumstances to seek the advice of a registered investment advisor.